New Classes, Workshops, and Talks: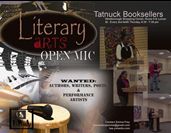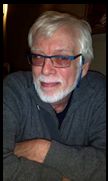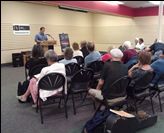 Award-Winning Artist Stephen Halpert as
August's Literary Arts Open Mic Featured Artist at Tatnuck Bookseller
IWA Publishing Services Open Mike Night: WESTBOROUGH, MA –The Literary Arts Open Mic is proud to showcase award-winning artist, writer, and Emerson College alumni Stephen Halpert as the Featured Artist for the Literary Arts Open Mic, August 28th 2014 from 6:30 – 7:30 p.m. at the Tatnuck Bookseller, Gift Gallery & Café, 18 Lyman Street in the Westborough Shopping Center off Route 9, Westborough MA.

'Halpert has won awards from the Blackstone Valley Artist Association's Spring and Fall shows and the Grafton Fine Arts & Music Festival. In 2009, he was juried into the Arts Worcester Biennial Exhibit and in 2010 into Goddard Houses' In And Out of the Box. He also facilitates collage workshops and private classes encouraging artists of all ages to develop and express their own unique vision.

Halpert has also authored a number of books, articles and columns on American literary, photographic and social history; and rock music and pop culture. Today he writes a weekly humor column, American Scene published on line and in The Grafton News.' (Press Release) - (PDF) 174 Kilobytes


For more information or to participate in the Literary Arts Open Mic event, contact Zorina Frey at examinerzjerome@gmail.com.
---

Previous Workshops and Classes:
Tower Hill Botanical Gardens - Decorative Arts Using Collage (directions)

110312 - Decorative Arts Using Collage
ADED 11018: Saturday, March 12th, 2011 (12 Noon - 2 P.M.)
Members $25, Non-members $30
Instructor: Stephen Halpert

An introductory adult workshop in collage technique and execution. Beginning with a brief historic overview participants may follow the same path as such artists as Picasso and Braque and either work on traditional canvases or transform small pieces of furniture (coffee or side tables, chests, shelves), boxes, screens or other three dimensional objects into works of original art. Here is an innovative inexpensive way to refurbish an eyesore into a treasure to be displayed and appreciated in one's home or office.

Click here for more info and to register.
Tower Hill Botanical Gardens - Collage for Kids (directions)

110223 - Collage for Kids
CHCL 11004: Wednesday, February 23rd, 2011 (1 P.M. - 2:30 P.M.)
Members $20, Non-members $25
Instructor: Stephen Halpert

A fun filled beginner's experience! Kids age seven and up will have the opportunity to create their own original collages drawn from recycled magazines, calendars, old photographs, post cards, greeting cards, snippets of cloth and other paper and cardboard scraps, even small everyday found objects like bottle caps, beads, even small plastic toys, polished stones, and colored glitter. Led by award-winning artist Stephen Halpert and beginning with a series of easy exercises enabling them to learn about color shape, and perspective, kids will discover exciting new ways to create pictures. Stephen will provide glue sticks, heavy cardboard for layouts and gluing, glossy Mod Podge for finishing and sealing, and some old magazines and paper for cutting; kids are asked to bring to class their own pair of scissors as well as whatever recycled paper, photographs and assorted small objects they wish to integrate into their collages.

Click here for more info and to register.

---

Other News



August 15th 2010

Stephen is on Facebook.com. See more of his exciting artworks and collages, talk to him and others through this new gateway by clicking here Stephen's Collage Art Photos (Facebook) or on the logo above.

Visit Stephens Gallery Page on this website by clicking here.